The winter was coming, we just didn't know when. Being in business for almost 25 years, we had already been through two big economic downturns, the 2001 dotcom bust, and again in the 2008 financial crisis. We knew something was on the horizon in 2020, but felt sure that our team and community could handle anything.
After celebrating our 20th anniversary of AXIS in 2016, we felt more confident than ever that we were a strong business with a loyal community. We were blown away as we shared the wonderful memories, and the successes and dreams our team and clients achieved during our first 20 years. We were re-energized and excited to continue learning and growing, and we thought the next 5 years would be smooth sailing.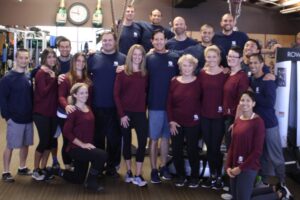 We started our journey on taking a deep dive into anti-aging and human optimization. While the fitness industry continued down the path of gimmicky trends and doing much of the same that we had seen for the last 20 years, we started in a different direction to focus on health and longevity. With 88% of the the U.S. population metabolically unhealthy and 70% overweight, with 42% obese, something needed to change.
We attended the A4M Anti-Aging World Congress, the Metabolic Health Summit, Paleo f(x) and several other conferences with the top professors, doctors and scientists who shared the latest findings on living longer and healthier. We began learning from the leaders in this space such as Dr. Peter Attia, Dr. Rhonda Patrick, Dr. Dom D'Agostino and Dr. Valter Longo. We focused on intermittent fasting, began researching the benefits of heat (sauna) & cold, delved into stem cell treatments and more, all with the goal of improving metabolic health. In 2018 we started our blog to share all of this with you.
As our community was humming and our team was thriving during the summer of 2019, we attended a 5 day immersive conference, Business Mastery. We were excited as we prepared for another great year and for the future of AXIS. Heading into 2020, we were cautiously optimistic, knowing another business "winter" would hit one day. We had no clue that the coronavirus was about to destroy lives and businesses, and change our world completely. In February, when things started to become real, we began continuously cleaning everything from top to bottom and improved our air filtration system, to create the safest environment for our clients and our team.
On March 16, 2020 everything changed. We were forced to close our doors, we were locked down and unsure of what the future held for us and the entire world. We spent the first day stunned and bewildered with watery eyes. Day Two we went into action and execution mode. We stepped back and put a plan in place to support our community and team. We were not alone, we were together. The one thing we knew for sure was that we would do whatever it took to stay connected and to keep AXIS strong. Failure was never a thought or an option.
We continued to clean like crazy; Scott became a professional vacuumer. ? That first week we started the AXIS Quarantine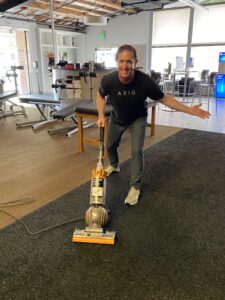 Challenge and sent emails everyday with videos, exercises and quotes, knowing the importance of staying engaged and connected. As the shelter in place continued, our connection with you kept us motivated to help you physically and emotionally. Many of us were scared and lonely. With constant communication and lots of love, we became a closer and an even stronger community. Having a purpose and executing everyday gave us the confidence to make it through the shutdown that destroyed so many businesses.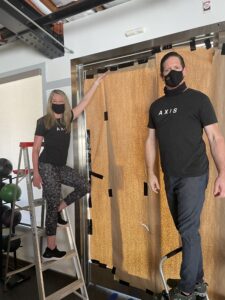 Our team stepped up to shine and thrive. Our clients showed love and support. Zoom became our new best friend and we enjoyed our AXIS "speakeasy". (Let's keep that part between us!) By following the science, we had zero cases of COVID at AXIS. We stayed healthy through exercise, nutrition, sleep, vitamin D, vitamin C, zinc, better air filtration, wearing our masks, social distancing and finally vaccinations. All of this has taught us that "hope is a strategy" and science works! Most importantly, the past 18 months have given us a stronger reason to keep pushing forward, to give you and our team the best life possible.
THANK YOU all for your love and loyalty. We would not be here today without you. Cheers to another 25 years!!
Much Love,
Scott, Alli & The AXIS Team
If you're interested in learning more about our early years in business, please read the "Untold Story of AXIS" which Scott shared as we celebrated our 20th anniversary in 2016.