Owner/Founder & CEO, Scott Norton, talks about the history and inspiration for AXIS:
One of the defining moments in my life was when I suffered a severe knee injury during my freshman year at the University of Utah. My football career came to an end, but it was then that my journey towards starting AXIS began.
I became a strength coach for the next three years in order to keep my scholarship and finish my degree. During this time I was given educational opportunities few receive, from top medical professionals as well as the Olympic strength coach who came to Utah my senior year, a relationship that changed my career and my life. The common theme among all of these professionals was that they continued to be curious and to learn, always evolving and improving their craft. Their constant never-ending improvement helped the athletes become the best they could be, and inspired me to do the same.
That is the approach we took in creating AXIS over 25 years ago. We envisioned a gathering spot for trainers and clients; an unparalleled personal training facility where trainers could continually learn and develop and where clients would be inspired to work to their highest potential.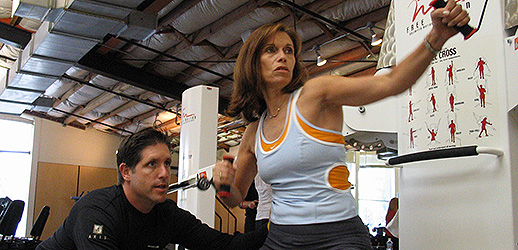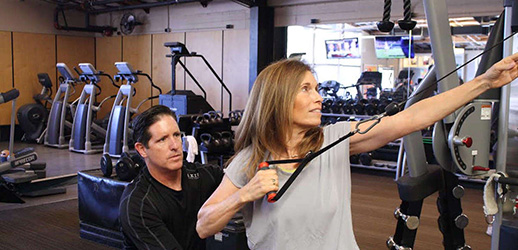 What 20 years of training at AXIS can do for you!
1996 | 2016
My experience at Utah helped shape what became our training philosophy, the AXIS Methodology. We focus on building a strong foundation of proper posture and stabilization so every client progresses through their program with decreased risk of injury and the benefit of achieving more than they ever thought possible.
AXIS has been successful over the years thanks to trainers who have independent thinking, while at the same time are part of a community of like-minded professionals. Our trainers have many resources available to them, from doctors and physical therapists, to the top experts in the exercise science field who we bring to AXIS to educate the team. It is exciting to watch trainers develop their careers through self-improvement and we realize the more support and education our trainers receive translates directly to a better training experience for our clients.
As the Founder of AXIS, my goal is to never stop striving to be better. We are always looking for ways to improve not only our training, but our operations, our service, and our team. We have traveled all over the country to learn from other successful business owners and entrepreneurs, and we continue to stay committed to our own personal and professional development. What we did when we started is very different than how we operate AXIS now. I am grateful for the lessons of the past that have lead to the success we have today.
We look forward to having all of our team members and clients join us in creating the new future of AXIS!
Flexible membership packages to suit all levels of athlete and achive your fitness goals
We empower people by intelligently educating them about health and wellness
Create an environment of professionalism by being positive, supportive, motivational and courteous
"Step into the AXIS clients' shoes" – actively listen to understand their needs & wants
Enhance the AXIS community culture by consistently being sincere & compassionate
Represent AXIS in a friendly, welcoming & helpful way at all times
Always anticipate & exceed the clients' expectations
Be 100% focused, 100% of the time – focus on the Hands-on approach
Educate and empower clients and fellow team members through understanding the why's of exercise & massage
Always be creative and on the cutting edge – giving variety
Design programs based on clients needs & wants utilizing the AXIS methodology
Monitor & communicate progress towards clients goals
Contribute thoughts, ideas, & efforts to empower each other to succeed
Take responsibility, welcome accountability and always be reliable
Respect and be proud of the facility, company and the AXIS team
Be honest with yourself and others – " Give and receive constructive advice, utilizing open communication
"STEP IT UP" – take initiative and be proactive