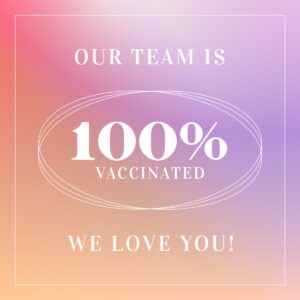 *Effective 8/3/21, masks are required indoors for all individuals, regardless of vaccination status, per San Mateo County. AXIS is taking this a step further to put your mind at ease, and requiring proof of vaccination for all clients. Our staff is 100% vaccinated so you can rest assured that your health and safety is top of mind.
*If you prefer to workout maskless, we have options for outdoor as well as online training. Our top priority is your safety. We don't want you to worry about anything except having fun, engaging with your community, and focusing on your health!
Our Commitment to You – 10 Points to 10x Your Safety at AXIS
The entire facility, including locker rooms and staff areas, has been professionally sanitized from top to bottom.

We have gloves and masks available.

There are disinfectant wipes and spray bottles throughout the facility.

If you use the computers or any of the cardio equipment, please wipe them down after use.

Trainers are wiping down machines (benches, tables, mats, handles, etc.) throughout the workouts.

We are cleaning & disinfecting the following common areas throughout the day: front desk, locker rooms, staff areas, the training floor & cardio. 

The entire facility is cleaned and sanitized nightly.

We no longer have magazines, newspapers, coffee or fruit available to prevent the spread of germs.

We are limiting the number of clients/trainers on the training floor to provide a safe and comfortable space for your workouts.

We will continue to utilize our parking lot for outdoor workouts.

We have added four Molekule Air Purifiers on the training floor, as well as one in each locker room. These use PECO technology to break down pollutants at the molecular level, including bacteria, viruses and mold. We have also installed upgraded Merv 13 HEPA filters in our HVAC system which catch smaller airborne particles such as fine dust, bacteria, viruses and mold.